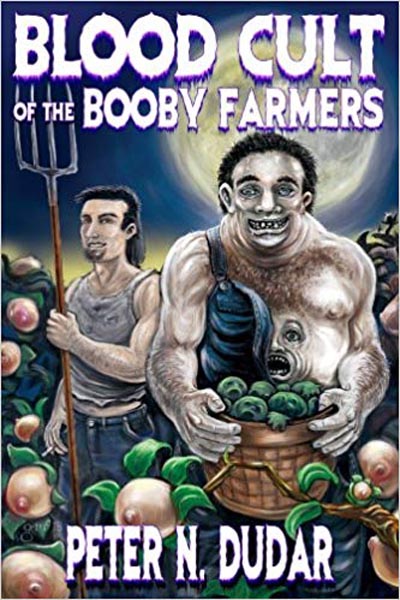 Blood Cult of the Booby Farmers
by Peter N. Dudar
Under the burning sun of Cold Currant, Mississippi, right on the banks of the Mississippi River, sits an old antebellum farmhouse that has been passed down over the generations. The farm's current occupants, the Tucker clan, are on the brink of losing their family's legacy.  Only, the Tuckers have been hiding a depraved, murderous secret under the very soil of the farmland they continue to work.  When the vice-president of Cold Currant Savings and Loan shows up one sweltering summer afternoon to transfer their foreclosure papers, all hell breaks loose.
In the race to save their farm, Lee Tucker and his two inbred sons, Tobias and Mathias are going to have to make some terrible decisions and spill a lot of blood.  Only, things aren't exactly as they seem once the sun sets and the moon rises above the crops.  And as their latest victim lies naked and screaming in the barn, a nightmarish chain of events begins to unfold.  Will it be the end of the Tucker Blood Cult, or will their redneck living be enough to save the family farm?  Find out in Blood Cult of the Booby Farmers!
Praise for Blood Cult of the Booby Farmers:
"This book reads like that episode of HBO's Tales From the Crypt that had everything your twelve year old heart and loins wanted: blood, boobs, more blood, some humor, bloody REVENGE, and boobs. Blood Cult of the Booby Farmers is a heaping helping of high camp with a side of adolescent humor and more than a drizzle of mean streak guaranteed to upset the fragile sensibilities of gentle folk. Don't pull up to the table if you don't have the appetite! Oh, and did I mention boobs?"
— Bracken MacLeod, Bram Stoker Award-nominated author of Stranded
"Okay, well, I liked it. Bizarre, bloody, at times gross and disturbing there's a story here that's well-crafted and plummets forward with abandon. I think, with books like this, context is very, very valuable. For fans of the lesser-known horror films — the kind of films that just went for it — like The Hills Have Eyes, The Beast Within, or The Incredible Melting Man; this book just goes for it!"
— Errick A. Nunnally, author of Blood for the Sun