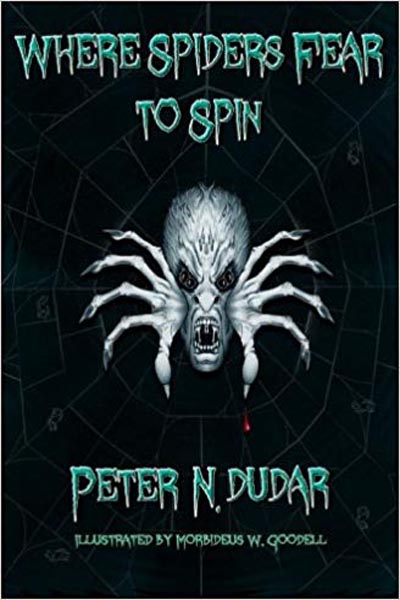 Where Spiders Fear to Spin
by Peter N. Dudar
From the twisted mind of Bram Stoker Award Finalist Peter N. Dudar comes a ghost story of vengeance, death, and stark terror. WHAT IF THE PERSON YOU WRONGED IN LIFE WAS WAITING ON THE OTHER SIDE, JUST BEYOND THE COBWEBBED VEIL OF DEATH, TO DRAG YOU TO HELL? Sadie Mills, the one-time soap opera star of Forbidden Steam, is terminal and waiting to die. Her private life has been haunted by the tragic death of her husband, Andrew, and the subsequent dogging by tabloid reporters over her lascivious past. Her daughter Theresa is now her full-time caregiver and health proxy—a curse of indentured servitude that has driven their damaged relationship to the razor's edge. Theresa has never forgiven Sadie for driving her father to an early grave, and is praying that her mother's death will finally undo the web of deceit that Sadie has created. And now, at the hour of her death, Andrew's angry ghost has returned for Sadie, longing to introduce her soul to unspeakable horrors.
Praise for Where Spiders Fear to Spin:
"Peter Dudar couldn't have chosen a more perfect star for his book Where Spiders Fear to Spin. I'm not talking about the failed soap opera store, nor her brat of a grown daughter. Not even the ghost that haunts the dying actress. Read the book and you'll find out who the real star is, and odds are you're already more than a little familiar with this eight-legged freak. Dudar is a master at raising goosebumps and making a reader check the corners of her room for any uninvited visitors, spectral or insect. This story wrapped me up and kept me in its spell so much that I read it in one sitting. I expect Dudar to continue churning out spine-tinglers like this for a long time!
— Lori Safranek, author of Freakshow: The Complete Freaked Out Series
"With the novella Where Spiders Fear to Spin, Peter N. Dudar delivers another solid tale of terror. Sadie Mills, one time daytime soap star, is now old and dying. But she's not in a hurry to die just yet. The husband she tortured in life with her infidelities is waiting just beyond the veil, eager to get his revenge once she's breathed her last breath. Dudar continues his ascent as one of the best purveyors of the ghost story."
— L.L. Soares, author of Life Rage and In Sickness
"Where Spiders Fear to Spin is a ghost story like no other.
Dying soap star Sadie Mills is confined to a hospice bed and tended to by her bitter daughter, Theresa. Don't worry. There's more drama in the Mills family than your average soap opera. Theresa blames her mother for her father's tragic death, and mater's death can't come fast enough for her.
The ghost of Andrew Mills plots to avenge his own death, but the plan goes horribly awry.
Dudar weaves his own web of family secrets. I really love the parallels between a menacing spider and Sadie herself. She really is a fly caught in a spider's web. It's not always easy to like Sadie (everyone in this story is flawed and broken), but by the end, I truly empathized (if not sympathized) with her.
Where Spiders Fear to Spin is a quick read with plenty of drama."
— Sheri Sebastian-Gabriel, author of Spirits